39.92754619999999
-86.2360157
Gateway Classic Cars of Indianapolis
Located in Carmel, IN - Just 14 miles North of downtown Indianapolis
Indianapolis Showroom
Hours of operation

Mon - Fri:

9am - 5pm

Sat:

9am - 5pm

Sun:

Closed
Newest Arrivals in Indianapolis
Blue 1958 Chevrolet Impala powered by a 348 V8 engine with a Automatic transmission.


Blue 1983 Lincoln Mark VI powered by a V8 engine with a Automatic transmission.


Blue 1987 Lincoln Continental powered by a 5.0 efi V8 V8 engine with a Automatic Automatic transmission.


Green 1967 Pontiac Executive powered by a V8 engine with a Automatic transmission.


Gray 1990 Volkswagen Beetle powered by a 1850cc other engine with a Automatic transmission.


White 1960 Ford Thunderbird powered by a V8 engine with a Automatic transmission.


White 1963 Oldsmobile Starfire powered by a V8 engine with a Automatic transmission.


Red 1979 Jeep CJ7 powered by a V8 engine with a auto Automatic transmission.


Red 1978 Lincoln Continental powered by a V8 engine with a Automatic transmission.


White 1989 Pontiac Firebird Trans-Am powered by a V6 engine with a Automatic transmission.


Caffeine & Chrome Local Sponsors
About Our Indianapolis Showroom
The Indianapolis showroom will be the 5th showroom for our company. We are excited to be a part of the infamous INDY racing scene. This location opened in September of 2013.
Gateway Classic Cars is proud to be a part of the City of Indianapolis. As a city in the 12th largest state in the country, Indianapolis offers a rich history and many options for both citizens and tourists alike.
For the sports enthusiast, Indianapolis is home to many professional sports teams and events. The famous Indianapolis Motor Speedway is home of the Indy 500 Race. If you are a football fan, the city is home to the Indiana Colts, and basketball fans can enjoy the Indiana Pacers located in Indianapolis, Indiana. It offers art and many other varieties of culture.
The Indianapolis Motor Speedway for race fans and car enthusiasts is an amazing 2.5-mile race track that offers hope to many racers wanting to make a name for themselves, and some do just that. Throughout the previous century, Indy 500 has been a pivotal part in many drivers' lives and careers. So many memories have been made throughout the Indy 500 and Brickyard 400 years and these memories have helped to continue the atmosphere that Indy creates. It is a place and event that every car fanatic and race fan needs to experience.
Art plays another important role in the Indianapolis culture. The Indianapolis Museum of Art is ranked the number one attraction in Indianapolis. The Museum of Art offers free admission to visitors from all over the globe. It is the 10th largest museum of art in the world and offers more than 54,000 works spanning more than 5000 years. They offer classes, events, and special events. It's a must-do on your list as a resident of the city or an out of town visitor to see the Indianapolis Museum of Art.
Another place that is part of the proud heritage of Indianapolis is the Children's Museum of Indianapolis. This Museum offers an experience filled with discovery for children of all ages and is one of the largest of its kind in the world. Whether you want to meet a dinosaur, dig for fossils, see a blown glass demonstration, climb a limestone wall, or sail a boat, there is something to offer for the young and the young at heart.
The Indiana War Memorial and Museum is filled with rich history of the brave men and women who have served our country and the wars they served in, from the Revolutionary War to present day. Offering everything from the clothes they wore to the equipment and vehicles they used, the museum offers an educational opportunity to learn about the history of all branches of services and the people who proudly served our country.
Gateway Classic Cars is proud to be present in a city offering so much to the community. Our Indianapolis location offers a showroom for visitors to tour and see the many classic and collectible cars from owners throughout the state. Gateway Classic Cars also offers owners the ability to sell their classic and collectible cars to buyers from around the world using Gateway Classic Cars' successful consignment program.
Indianapolis Team
Angelina Gagliano
Office Manager
Danny Kreutzberger
Sales Consultant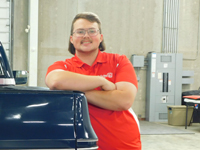 AJ Wheeler
Inventory Consultant
How to get here
We are 14 miles north of downtown Indianapolis, IN. Northwest Side of Indianapolis, from I-465 take US 421/Michigan Exit and head North of Michigan Road, make a left hand turn heading West on 96th St. Make right hand turn on Mayflower Park Dr. We are the 2nd parking lot on the right, we occupy the north end of the building with Bell Technologies
Working hours
Mon - Fri:

9am - 5pm

Sat:

9am - 5pm

Sun:

Closed
Want to be part of our team?
Check our current openings and submit your application.
View Current Openings
Indianapolis Showroom
Hours of operation

Mon - Fri:

9am - 5pm

Sat:

9am - 5pm

Sun:

Closed