Step back in time with this 1956 Chevrolet Bel Air, a true classic American automobile that effortlessly combines vintage charm with a touch of modern convenience. Boasting an elegant gray exterior complemented by a comfortably appointed blue cloth interior, this Bel Air is certain to turn heads wherever it goes.
At the heart of this timeless beauty is a robust V8 engine paired to an automatic transmission, delivering a powerful and smooth driving experience. It is equipped with several features designed to enhance your comfort and safety.
Stay cool even on the hottest days with air conditioning as you cruise along to your favorite tunes thanks to the inbuilt AM/FM radio. The car comes with aluminum wheels and custom wheels, enhancing both its performance and aesthetic appeal.
Safety is a top priority and this classic Chevy is outfitted with seatbelts for all passengers. Power brakes and power steering add to driving ease and control, while power windows provide added convenience. Navigate corners with ease thanks to the tilt steering wheel.
Whether you're a vintage car enthusiast or seeking a unique vehicle with a story to tell, this 1956 Chevrolet Bel Air is more than just a car - it's a piece of automotive history. Don't miss the opportunity to own this iconic automobile. Experience the rich heritage of Chevrolet with this 1956 Bel Air and make a statement with every drive.
Atlanta Sales Team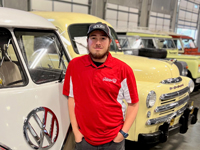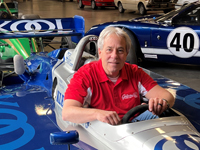 David Duty
Sales Consultant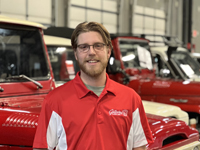 Brent Vennes
Sales Consultant