Gateway Classic Cars of Charlotte is proud to digitally present this 1970 Chevrolet Chevelle.
The Black 1970 Chevelle is an actual American muscle car. The Chevelle was one of the muscle car era's most popular and iconic vehicles. This model is a prime example of the power and style that made the Chevelle so famous.
The 454 engine under the hood is a powerhouse, producing impressive horsepower and torque. The engine is paired with a manual four-speed transmission, which provides precise and responsive shifting. The manual transmission also makes the car more engaging to drive and allows the driver to exploit the engine's full power.
The exterior of the 1970 Chevelle is sleek and aggressive, with a long and low body that gives the car a menacing stance. The black paint gives the car a powerful look, while the white stripes add a sporty and distinctive touch. The vehicle also features a cowl induction hood, which adds extra performance and appeal to the car's appearance.
The interior of the 1970 Chevelle is equally impressive. The car features a red vinyl interior, which gives the car a sporty and premium look. The seats are comfortable and supportive, and the vehicle has gauges and controls that are easy to read and operate. The car also features a floor-mounted shifter, which provides a race-inspired look and feel.
The 1970 Chevelle also features several advanced technologies and features. For example, the car comes equipped with a 12-bolt rear end, which provides traction and stability. The car also features power brakes and power steering, which make the vehicle easier to control and maneuver.
Overall, the Black 1970 Chevelle with a 454 engine, manual four-speed transmission, red interior, and white stripes is a true American muscle car. The car's powerful engine, sleek and aggressive design, and advanced technologies and features make it a pleasure to drive. So whether you're a collector or just looking for a fun and exciting car to drive, the 1970 Chevelle is sure to please.
Charlotte Sales Team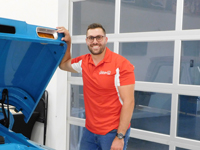 Josh McClelland
Lead Sales
Jay Torry
Sales Consultant