Presenting an exceptional 1981 Volkswagen MG Replica Kit, boasting an irresistible blend of both British racing heritage and the reliability of German engineering. Immediately notable is the stunning British Racing Green exterior, a historic color that pays homage to the golden era of motor racing and stands as a staple hue in British automotive culture.
What sets this unparalleled ride apart from others is that it easily mimics the iconic and highly sought-after MG TD. You'll be owning a piece of British motoring history with remarkable aesthetic precision, all while enjoying the practicality and dependability of the underlying Volkswagen Beetle chassis.
The interior, a striking Oxblood color, wonderfully matches the strong character of this vehicle. It is a faithful nod to the enduring style and grace of classic British automobiles.
Under the bonnet, the vehicle houses a sturdy flat-4 engine known for its simplicity, durability, and smooth operation. Its 4-speed manual transmission is fully functional, offering you full control over the car's performance and adding to the authentic classic motor experience.
When it comes to entertainment, the car is equipped with an AM/FM radio, ensuring that your drives can always be accompanied by your favorite tunes or talk shows.
This 1981 Volkswagen MG Replica Kit is a carriage for admirers of the MG TD's timeless design looking for a novel and affordable way to experience automotive history. With this vehicle, you get a taste of both worlds: a breath-taking replication of a British classic and the rock-solid performance of a Volkswagen Beetle. This unique blend of charisma and reliability offers a truly memorable driving experience.
Chicago Sales Team
Nic Thom
Showroom Manager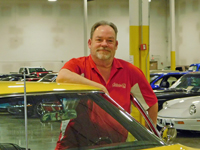 Louis Chambers
Lead Sales