Gateway Classic Cars Houston Showroom is excited to offer this 2011 Ford Shelby GT500 for sale. This bright blue beast has been treated to some potent upgrades. Under the hood, the hand-built quad cam 5.4 Liter V8 engine features a VMP 2650 supercharger kit. Providing support for the bigger blower are 1050X injectors, VMP twin throttle body, VMP Cooler fan, VMP 2.6 pulley, VMP booster fuel pumps, JLT intake, and JLT oil catch can. Stainless longtube headers funnel the spent gases into a 3-inch Magnaflow exhaust (which has quite a bark, by the way). The Lund Racing tuning gauge should be a giveaway that there is a Lund tune on the car, which was done by McGinty's Automotive & Performance. While there's no dyno sheet, its easy to tell this car runs stronger than a stock GT500. A Centerforce triple disc clutch sends the power to the 6-speed manual transmission, and out the Ford Racing single piece driveshaft to the rear, where the GMR rear suspension helps keep the massive Nitto NT555R2 radials make the most of their massive 305 section width. The 6-Speed manual is equipped with a G&W Billet Shifter, which makes changing gears a snap. The interior is equally impressive, featuring sleek black leather seating with white accents, and they exudes sophistication and comfort. The vehicle is also equipped with power seats, allowing for easy adjustments to cater to your preferred driving position. When it comes to features, this Ford Shelby GT500 doesn't disappoint. The air conditioning ensures a comfortable drive in any weather, while the Shaker AM/FM/CD sound system provide entertainment options for your journey.
Safety has not been compromised in this model, with anti-lock brakes (featuring Brembo front calipers, and slotted/drilled rotors at all 4 corners), a driver airbag, seatbelts, and a traction control system all included to ensure peace of mind on the road. The anti-theft system provides additional security, helping to protect your investment. Cruise control and power steering make longer drives more enjoyable, while the GPS navigation ensures you'll never lose your way. The power locks and power windows add a touch of convenience, making this vehicle both practical and enjoyable to drive. This model also features custom wheels and radial tires, enhancing both the aesthetics and performance of the vehicle. Its next owner will also find that the OEM supercharger is included, in the event that they want to detune it a bit. This is a beast when you mat the gas, and yet still well-mannered for those with a judicious right foot. Contact our Houston Showroom today to make it yours!
This vehicle is no longer on the showroom floor, was returned to its owner, may have been modified from the description contained on this site, and may be no longer available for sale at this time. The owner has authorized Gateway to continue to display the Vehicle and Gateway will contact the owner about its availability for sale by consignment if any potential buyer is interested in the Vehicle.
Houston Sales Team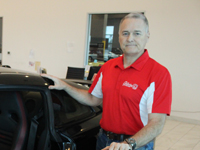 Jeff Youngflesh
Showroom Manager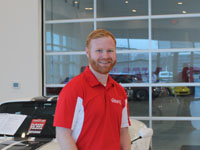 Dominic Pasqualini
Sales Consultant