Gateway Classic Cars of Las Vegas is pleased to present a 1973 Mercedes-Benz 450SL in White with Black Leather interior showing 103,719 miles on the odometer.
The SL line was produced from 1954 and remains in production to date by Mercedes-Benz. The designation SL in German is Super-Leicht which in English translates in Super Light. The 450SL is designated the R107 which ran from 1971-1989 while the 450SL itself was produced from 1973-1980 being the second longest production run for Mercedes-Benz behind the still produced G Wagon.
The 450SL is powered by a 4.5 liter mated to a 3 speed automatic transmission. Fuel was controlled by an early engine management system known as the "Bosch D Jettronic Fuel Injection System". The ride was aptly controlled by a double wishbone, coil springs and stabilizers bars with steering handled by a recirculating ball system.
The R107's were equipped with a removable hard top and a collapsible soft top.
This example carries original equipment down to the Becker Radio and the early 1973 thin chrome bumpers front and rear.
Early SL450's are getting harder to find but here is a chance to purchase one of the most beautiful of the Sl years at a reasonable price. Just get and drop the soft top and it's 1973 all over again. Driving gloves are optional.
Las Vegas Sales Team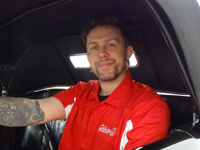 Caleb Weathers
Sales Consultant