Gateway Classic Cars of Las Vegas proudly presents this 2007 Chevrolet Corvette 3LT Convertible. A blend of power, style, and comfort, this striking vehicle comes in a vibrant red exterior color that is sure to turn heads wherever you go. The interior is a sophisticated blend of gray and black leather, offering a luxurious and comfortable ride.
Under the hood, you'll find a robust 6.0 Liter V8 engine paired with an automatic transmission, delivering a smooth and powerful driving experience. This Corvette is not just about power; it's also about control. With features like anti-lock brakes, traction control, and performance tires, you can be confident in your vehicle's ability to handle any road condition.
The automatic convertible top allows you to enjoy the open air with just the push of a button. The vehicle also comes with a power sunroof, adding another layer of versatility and enjoyment to your driving experience.
Inside the Corvette, you'll find a host of features designed to enhance your comfort and convenience. The air conditioning and heated seats ensure you stay comfortable no matter the weather outside. The power seats, power locks, and power windows add a touch of luxury and convenience to your ride.
For entertainment, the Corvette is equipped with an AM/FM radio and CD player. The vehicle also comes with a custom wheel package, adding a unique touch to its already impressive appearance.
Safety is a priority in this Corvette, with features like a driver airbag, passenger airbag, seatbelts, and an anti-theft system. The vehicle also comes with a telescopic steering wheel and tilt steering wheel, allowing you to adjust your driving position for optimal comfort and control.
In conclusion, this 2007 Chevrolet Corvette 3LT Convertible is a powerful, stylish, and comfortable vehicle packed with features. Whether you're looking for a car for daily commuting or a fun ride for the weekends, this Corvette is a fantastic choice.
Las Vegas Sales Team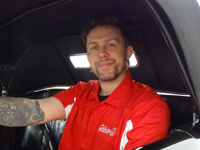 Caleb Weathers
Sales Consultant