Gateway classic cars of Nashville is proud to digitally present to you this 1940 Chevrolet Master Deluxe - A Classic Beauty with Modern Comforts. This classic is draped in sweet maroon paint and tan interior. The hood is louvered for ventilation and let's face it, old school coolness.
1940 produced some of the most iconic cars and this Master Deluxe is at the top of the pack. This classic vehicle combines nostalgic charm with contemporary features, offering both worlds for car enthusiasts.
Under the hood, the 1940 Chevrolet Master Deluxe is equipped with a powerful 350cid V8 engine that has been treated to a lot of chrome, sunglasses are require. This power plant has been outfitted with a semi high rise intake topped with a Holley 4 barrel and H.E.I. distributor and rams head exhaust manifolds for a great blend of new and old. An automatic transmission, ensuring smooth and effortless gear changes for a comfortable ride.
Despite its vintage roots, this classic car doesn't shy away from modern convenience. It comes equipped with air conditioning for comfort even during the hottest summer days AM/FM C/D player to keep you entertained. To make driving more enjoyable power rack and pinion steering and power brakes with front disc and seat belts to hold you firmly in place.
This classic has it all, looks, style, class and Power. This is a car the entire family will love so give us a call today and let's get started.
Nashville Sales Team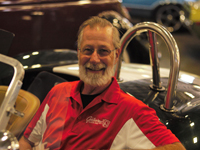 Dennis May
Sales Consultant