Gateway classic cars of Nashville is pleased to digitally present to you this 1990 Chevrolet SS454 pick up. Now, we all know that this truck came from the factory with a mission to drink all the fossil fuel and create about 230 Horsepower. So a little more than my weed eater. Chevrolet had this engine so detuned it was not funny. Well this truck has changed all that.
The owner of this truck tell us it was dreamed up and assembled in California by Duane Mayer of American Hot Rods, this was Boyd Coddington's shop. The 454 now puts out 550Horsepower with the help of a lot of go fast goodies like CNC3 heads, a comp cam lifts the valves and roller rockers, Edlebrock Victor Jr. intake and Holley style ( I believe quick fuel ) Carburetor, MSD H.E.I. distributor and a set of Sanderson tri y headers. This potent power plant is backed with a 700R4 Art Carr automatic transmission and Art Morrison 4 link rear suspension system to plant the power to the road Boyd Coddington's rims, 20inch in the rear and 18 up front. this truck has it all and it looks great too, slick black paint leather interior and a stance that, well, you have seen it and it is sweeet.
the list of options goes on for awhile and include A/C, power windows and locks , leather interior, AM/FM CD player, but the music coming from the exhaust is the sweet sound of Horsepower. Are you ready for this?
This vehicle is no longer on the showroom floor, was returned to its owner, may have been modified from the description contained on this site, and may be no longer available for sale at this time. The owner has authorized Gateway to continue to display the Vehicle and Gateway will contact the owner about its availability for sale by consignment if any potential buyer is interested in the Vehicle.
Nashville Sales Team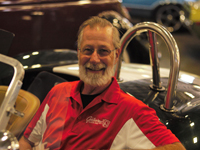 Dennis May
Sales Consultant