Gatewy Classic Cars of Orlando invites you to step back in time with this classic 1986 Chevrolet Monte Carlo SS. This iconic vehicle is a true testament to the American muscle car era, boasting a sleek white exterior that complements its vibrant red cloth interior.
Under the hood, you'll find a powerful 5.0L V8 engine, paired with a 4-Speed automatic transmission, offering a driving experience that's both exhilarating and comfortable.
The Monte Carlo SS is not just about power and looks, it's also equipped with a range of features designed to enhance your driving experience. Tune into your favorite AM/FM radio stations or play your favorite cassette tapes as you cruise down the road.
The car's interior is outfitted with comfortable cloth bucket seats, providing a cozy environment for both the driver and passengers. For added convenience, this model comes with power locks and power windows, making it easier to secure and ventilate the vehicle.
When it comes to handling, the Monte Carlo SS doesn't disappoint. It's equipped with power steering and a tilt steering wheel, allowing for easy maneuverability and a comfortable driving position. The power brakes provide reliable stopping power, while the radial tires ensure a smooth and stable ride.
In conclusion, this 1986 Chevrolet Monte Carlo SS is a classic vehicle that offers a blend of power, style, and comfort. Its range of features and iconic design make it a standout choice for any classic car enthusiast.
Orlando Sales Team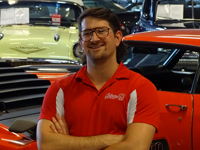 James Hecker
Showroom Manager