Gateway Classic Cars St. Louis is proud to offer this Sharp 1978 Lincoln Mark V.
This classic 1978 Lincoln Mark V is a stunning representation of automotive luxury from the late 1970s. Adorned in a striking red exterior, it exudes a sense of elegance and style that is sure to turn heads wherever it goes. The timeless design of the Mark V is accentuated by its long, sleek body lines, chrome accents, and distinctive front grille, showcasing the epitome of American craftsmanship. Step inside, and you'll be greeted by a lavish white interior that creates a luxurious and inviting atmosphere. The plush leather seats offer unparalleled comfort, inviting you to sink in and enjoy the ride. The cabin is spacious, providing ample legroom for both the driver and passengers. The attention to detail is evident, with wood grain accents and chrome trim adding an extra touch of refinement. Under the hood, this 1978 Lincoln Mark V is powered by a formidable 460 cubic-inch V8 engine, delivering ample power and a smooth, effortless driving experience. Paired with an automatic transmission, it ensures a seamless shift between gears, allowing for a relaxed and comfortable driving experience This classic Lincoln Mark V offers a host of features and amenities designed to enhance your driving pleasure. Power windows, power seats, and an adjustable steering wheel allow for personalized comfort and convenience. The air conditioning system keeps the cabin cool on hot summer days, while the AM/FM radio and cassette player provide entertainment options for your journey. The 1978 Lincoln Mark V combines style, power, and luxury in a way that few vehicles can match. With its vibrant red exterior, opulent white interior, and the potent 460 V8 engine, it represents an era of automotive excellence. Whether cruising down the highway or making a grand entrance at a special event, this timeless classic promises to be an unforgettable experience for both the driver and passengers alike.
This 1978 Lincoln Mark V can be seen in detail including 100+ HD Pictures and an HD video at gatewayclassiccars.com. For additional information please call our knowledgeable staff at (618)271-300 or email us at . The St Louis showroom is located at 1237 Central Park Drive, O'Fallon Illinois 62269..
St. Louis Sales Team
Geoffrey Valdejo
Lead Sales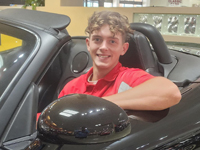 Nick Peppler
Sales Consultant