Gateway Classic Cars of St. Louis is proud to digitally present this trip down memory lane with this minty fresh 1947 Ford Super Deluxe!
This isn't just any old car, oh no, this is a time machine on wheels, ready to transport you back to the good old days when rock 'n roll was king, and the drive-in was the place to be. With a mint green exterior that's as refreshing as a mojito on a hot summer day, this Ford Super Deluxe is sure to turn heads and drop jaws wherever it goes. And let's not forget about the beige interior, which is as classy and timeless as a pair of khaki pants. Under the hood, you'll find a 460CID V8 engine that's as powerful as a stampede of wild horses. This isn't just a car, it's a beast, ready to roar down the highway with the grace and power of a jungle cat. And with an automatic transmission, you won't have to worry about shifting gears, because this beauty does it all for you. But wait, there's more! This Ford Super Deluxe also comes with air conditioning, a feature so cool it'll make the polar bears jealous. And with a radio on board, you can rock around the clock to your favorite tunes while cruising down the highway. And let's not forget about the manual convertible top. With just a few simple steps, you can transform this Ford Super Deluxe from a classy coupe into a sassy convertible, ready for a sun-soaked adventure. And to top it all off, this car comes with power steering, making it as easy to handle as a puppy on a leash. So why wait? This 1947 Ford Super Deluxe isn't just a car, it's a ticket to a bygone era, a piece of history that's as fun to drive as it is to look at. So step right up and take a ride in this minty fresh time machine. But hurry, because this deal is as fleeting as the good old days themselves!
This 1947 Ford Super Deluxe can be seen in great detail including 100+ HD Pictures and an HD video at gatewayclassiccars.com. For additional information please call our knowledgeable staff at (618)271-3000 The St Louis showroom is located at 1237 Central Park Drive, O'fallon Illinois 62269.
St. Louis Sales Team
Geoffrey Valdejo
Lead Sales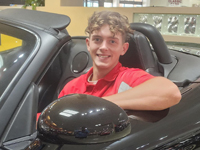 Nick Peppler
Sales Consultant