Step back in time with this 1966 Chevrolet Corvair Monza, a true classic that showcases the finest of American automotive design. The car's striking turquoise exterior is sure to turn heads wherever you go, and its black interior adds a touch of sophistication and elegance.
Under the hood, you'll find a Flathead 6 engine, a testament to the power and reliability that Chevrolet is known for. Paired with a 4-speed manual transmission, this car offers a driving experience that's both engaging and enjoyable.
Despite its vintage, this Corvair Monza doesn't skimp on features. Tune into your favorite AM radio stations for a nostalgic soundtrack to your drives. The manual convertible top allows you to enjoy the open air on sunny days, while the radial tires provide a smooth and comfortable ride.
Safety hasn't been overlooked either, with seatbelts included for your protection. And let's not forget the wire wheels, a stylish finishing touch that totally complements the car's overall aesthetic.
This 1966 Chevrolet Corvair Monza is more than just a car - it's a piece of automotive history. Don't miss the chance to make it yours.
Charlotte Sales Team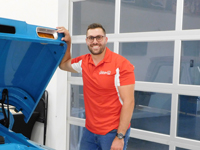 Josh McClelland
Lead Sales
Jay Torry
Sales Consultant