Introducing this stunning 1971 Cadillac Eldorado drenched in an alluring Cypress Metallic Green exterior. The sleek and pristine exterior color is beautifully juxtaposed against a sophisticated Dark Green cloth interior, creating an irresistible combination that's hard to ignore.
Not only does this classic car boasts timeless appeal; it's also powered by a robust 8.2 Liter V8 engine paired seamlessly with an automatic Hydra-matic 3-speed transmission. This powerful engine guarantees speedy acceleration and smooth, comfortable rides.
You won't compromise on comfort and convenience with its extensive feature list. Enjoy the luxury of air conditioning for those warmer days and a manual sunroof, ideal for enjoying the cool breeze on the evenings. Entertainment will never be far with an AM/FM radio and CD Player at your disposal.
Stay snug and secure in this coveted Cadillac with its power seats and seatbelts, while the dark green cloth interior provides an added level of luxury and comfort. With power locks and power windows, you will experience ease and convenience at your fingertips.
The white walls of this Cadillac further enhance its vintage appeal, while the rear defogger ensures vision clarity during those colder months. The powerful combination of power brakes and power steering ensures you will have full control, delivering an unrivaled and safe driving experience.
In brief, this 1971 Cadillac Eldorado promises to blend vintage charm with a suite of comforts and conveniences. The Cypress Metallic Green exterior combined with potent performance, comfort, and practicality, make this vehicle a great choice for those seeking old-world charm and modern facilities.
Chicago Sales Team
Nic Thom
Showroom Manager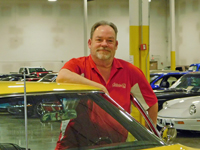 Louis Chambers
Lead Sales