Gateway Classic Cars of Denver is proud to present this 1923 Lincoln L Model 129
The Lincoln L series (also called the Lincoln Model L) is the first automobile that was produced by the Lincoln Motor Company Introduced in 1920, the L series would continue to be produced after the bankruptcy of Lincoln in 1922 and its purchase by Ford Motor Company
It was an alternative to various top level luxury vehicles to include the Mercedes-Benz 630, Rolls-Royce Phantom I, Renault Type MC, Packard Twin Six, and Cadillac Type 61. It was replaced during 1930 by the Model K.
Assembly of the L series took place in Detroit, Michigan.
In financial trouble, Leland sold the company to Henry Ford February 4, 1922, for $8 million ($129,510,934 in 2021 dollars), the amount determined by the judge presiding over the receivership Arthur J. Tuttle. Henry Leland valued the company at over $16 million. After a few months the Leland's left the company because of Henry Ford's managerial style and his son, Edsel Ford, designed a new body for the L series. Edsel became president and Ernest C. Kanzler general manager. The L series was a robust car. In the first year, hydraulic shock absorbers were added. Edsel and Kanzler implemented production economies, trimming manufacturing costs by about $1000 per car.
Aside from the extension of the wheelbase from 130 to 136 inches, the chassis of the Lincoln Model L saw few major changes; the 60-degree L-head V8 remained in production. The V8 used a novel approach for the piston connecting rods called Fork and Blade, which meant two connecting rods shared one bearing on the crankshaft, which allowed for a short crankshaft and a smaller overall engine size, while still displacing 357.8 cu in (5.9 L). The cylinders in both banks are also not offset from each other.
For 1923, several new body styles were introduced for the Model L under the direction of Edsel, including two and three-window four-door sedans, and a four-passenger phaeton. Other vehicles included a two-passenger roadster, and a $5,200 ($82,702 in 2021 dollars) seven-passenger touring sedan and limousine. A sedan, limousine, cabriolet, and town car were also offered by coachbuilders LeBron, Fleetwood, Judkins, Dirham, Holbrook, Willoughby and Dietrich, and a second cabriolet was offered by coachbuilder Brun. Vehicles built by these coachbuilders went for as much as $7,200; despite the relatively niche market segment, Lincoln sales rose about 45 percent to produce 7,875 cars and the company was operating at a profit by the end of 1923.
This beautiful Lincoln has been recently serviced and is ready for the open road!
Don't miss your opportunity to own a piece of Lincoln/Ford history!
Denver Sales Team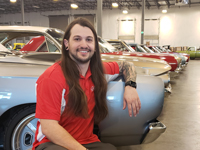 Jesse Cirasiello
Showroom Manager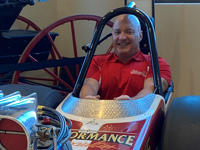 Scott Yockstick
Lead Sales