Gateway Classic Cars of Denver is Thrilled to offer this 1959 Chevrolet Corvette.
Step into the world of classic American muscle with this stunning 1959 Chevrolet Corvette Convertible. This iconic vehicle has undergone a thorough restoration, making it drive even better than it did off the factory floor!
The Corvette's exterior is finished in a timeless black, a color that complements its sleek and sporty design. The interior is equally impressive, featuring black leather upholstery that adds a touch of luxury to the overall driving experience.
Under the hood, you'll find a powerful 283 CID 2 4BBL V8 engine, which is paired with a 4 Speed T10 manual transmission. This combination ensures that the Corvette delivers a thrilling driving experience, with plenty of power and smooth gear changes.
Despite its classic design, this 1959 Chevrolet Corvette Convertible is equipped with a range of features that enhance its usability. An AM radio is included, allowing you to enjoy your favorite stations while on the move. The leather interior not only looks great but is also comfortable and durable.
For your safety, the Corvette is fitted with seatbelts. It also comes with performance tires and radial tires, which provide stable grip and stability, whether you're cruising down the highway or navigating twisty back roads.
In summary, this 1959 Chevrolet Corvette Convertible is a symhonic blend of classic American design and modern functionality. Its powerful engine, comfortable interior, and range of features make it a joy to drive, while its stunning black exterior ensures that it turns heads wherever it goes.
Denver Sales Team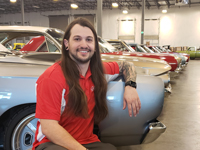 Jesse Cirasiello
Showroom Manager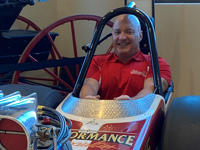 Scott Yockstick
Lead Sales