Gateway Classic Cars Houston Showroom is proud to present this 1992 Chevrolet Corvette. Introducing the classic 1992 Chevrolet Corvette, a timeless beauty that combines style, performance, and comfort. This Corvette is dressed in a sleek black exterior, a color that never goes out of style. The tan vinyl interior provides a striking contrast, creating a luxurious and inviting atmosphere.
Under the hood, you'll find a powerful 5.7L V8 engine paired with an automatic transmission, offering a smooth and responsive driving experience. This Corvette is not just about power; it's also about control. With features like power brakes, power steering, and a tilt steering wheel, you can navigate the roads with ease and confidence.
In summary, this 1992 Chevrolet Corvette is a classic car that offers a powerful driving experience, a range of comfort and convenience features, and a stylish black and tan color scheme. It's a testament to the enduring appeal of the Corvette brand.
The 1992 Chevrolet Corvette is also equipped with a range of comfort and convenience features. The air conditioning system ensures a pleasant environment in all weather conditions, while the power seats and power windows add a touch of luxury and convenience.
For entertainment, this Corvette comes with an AM/FM radio and a cassette tape player, allowing you to enjoy your favorite music or radio shows during your drive. The manual convertible top gives you the freedom to enjoy open-air driving whenever you wish.
Houston Sales Team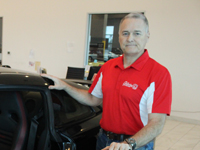 Jeff Youngflesh
Showroom Manager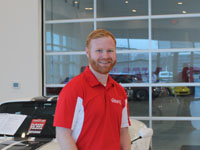 Dominic Pasqualini
Sales Consultant