Introducing the iconic 1970 Chevrolet Chevelle, a timeless and highly sought-after classic, painted in a bold and striking maroon exterior color. This powerhouse of a vehicle is not just visually appealing but also offers an impressive performance, thanks to its robust 454 V8 engine.
The interior of this beautiful machine is as impressive as its exterior. Wrapped in a luxurious black leather, it promises a comfortable and premium driving experience. The Chevelle is equipped with an automatic transmission, ensuring smooth and effortless gear shifts.
This classic car is not just about power and style, it is also packed with an array of features. It comes with sleek aluminum wheels that not only enhance the car's aesthetic appeal but also offer durability.
The Chevelle is equipped with an AM/FM radio, providing you with entertainment and information on the go. The car also features performance tires that promise great traction and handling, ensuring a safe and enjoyable driving experience.
For your convenience, this classic gem is fitted with power brakes and power steering, making your drive smoother and more comfortable.
Adding to its modern features is the push-to-start system, offering easy and quick ignition. The car also has a tilt steering wheel that can be adjusted according to your comfort, ensuring a more comfortable and ergonomic driving position.
This 1970 Chevrolet Chevelle is an amazing blend of classic charm and modern features. It promises an unrivaled driving experience with its powerful performance and luxurious comfort. This maroon beauty is a true classic that never goes out of style.
Some additional features include Aluminum Wheels, AM/FM radio, Leather Interior, Performance Tires, Power Brakes, Power Steering, and even a Tilt Steering Wheel!
Kansas City Sales Team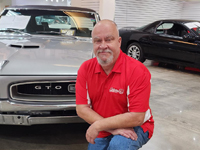 Randy Mattox
Sales Associate