Step into the past with this classic 1968 Chevrolet Corvair. This vintage beauty boasts a striking red exterior that is sure to turn heads wherever you go. The black cloth interior offers a comfortable and stylish ride, suited for those who appreciate the charm of yesteryears.
Under the hood, you'll find a robust I6 engine paired with an automatic transmission, offering a smooth and reliable driving experience. This car is not just about looks, it's about performance too.
The 1968 Chevrolet Corvair is equipped with an AM/FM radio, allowing you to enjoy your favorite tunes as you cruise down the road. The cloth interior adds to the overall comfort and aesthetic of the vehicle, providing a cozy environment for both the driver and passengers.
Safety is also a key feature of this classic car. It comes with seatbelts, a standard safety feature that provides peace of mind while you're on the road.
The car also features hub caps, a classic touch that adds to the vintage appeal of the vehicle.
This 1968 Chevrolet Corvair is a testament to the craftsmanship and design of the era. It's a car for classic car enthusiasts or anyone who appreciates the timeless appeal of vintage vehicles.
Experience the charm of the past with this 1968 Chevrolet Corvair. It's not just a car, it's a piece of history.
Kansas City Sales Team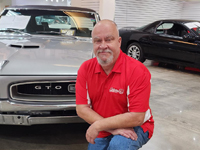 Randy Mattox
Sales Associate