For Sale: 1976 Volkswagen Super Beetle
Step into the past with this vibrant, orange exterior 1976 Volkswagen Super Beetle. This classic car is sure to turn heads with its bold color and iconic design. The black vinyl interior offers a sleek and comfortable ride, making every journey a memorable one.
Under the hood, you'll find a robust I4 engine paired with a 4-speed manual transmission. This combination offers a smooth and responsive driving experience, for those who appreciate the art of manual driving.
This Super Beetle is not just about looks and performance, it also comes with a range of features for your convenience and safety. Enjoy your favorite tunes with the fitted AM/FM radio, adding a touch of modernity to this classic ride.
The manual convertible top is a standout feature, for those sunny days when you want to feel the wind in your hair. Simply lower the top and you're ready for a fun-filled drive.
Safety is also taken care of with fitted seatbelts for all passengers. This Super Beetle ensures you can enjoy your ride with peace of mind.
This 1976 Volkswagen Super Beetle is a blend of classic design and modern features. It's a car that offers a unique driving experience, making every journey a special one. Don't miss out on the opportunity to own this iconic piece of automotive history.
Las Vegas Sales Team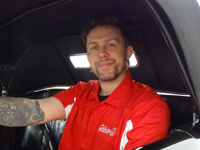 Caleb Weathers
Sales Consultant