Gateway classic cars of Nashville is very proud to digitally present to you the epitome of classic and American luxury with this 1951 Cadillac CUSTOM Series 62. This iconic vehicle is a true testament to the golden age of automotive design, boasting a sleek black exterior that exudes sophistication and elegance.
The Series 62 is a big deal, a symbol of prestige and status in its time, and this model is no exception. It's a car that commands attention, with its striking silhouette and timeless design elements that are sure to turn heads wherever you go.
Under the hood, you'll find a 331 CID V8 engine that was rebuilt in 2018, offering a smooth and powerful driving experience. Paired with a 2-speed automatic transmission, also rebuilt in 2018, this Cadillac delivers a ride that's as comfortable as it is thrilling.
Inside, you'll be greeted by a luxurious burgundy leather interior, complete with power seats and power windows for your convenience. The AM/FM radio adds a touch of nostalgia, while the seatbelts ensure your safety as you cruise down the open road.
The automatic convertible top is a standout feature, allowing you to fully immerse yourself in the joy of top-down driving. Imagine the wind in your hair, the sun on your skin, and the open road ahead of you. It's a feeling of freedom and exhilaration that only a convertible can provide.
This Cadillac is also equipped with bias ply tires and wide white walls, adding to its classic appeal. The hub caps are a nice touch, enhancing the overall aesthetic of the vehicle.
In conclusion, this 1951 Cadillac CUSTOM Series 62 is more than just a car; it's a piece of automotive history. It's a symbol of a bygone era, a testament to the craftsmanship and design prowess of its time. Whether you're a classic car enthusiast or simply someone who appreciates timeless beauty, this Cadillac is sure to impress.
Nashville Sales Team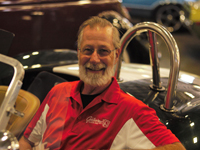 Dennis May
Sales Consultant