Gateway Classic Cars St. Louis is proud digitally present this 1960 Metropolitan Nash!
The 1960 American Motors Nash Metropolitan in teal and white is a charming and unique vehicle that captures the essence of the era. With its sleek, rounded body and distinctive color scheme, this car is sure to turn heads wherever it goes.
Under the hood, the Metropolitan is powered by a 1500cc motor that delivers a respectable 55 horsepower. Paired with a smooth-shifting 3-speed manual transmission, this car is a joy to drive, whether cruising down the highway or winding through city streets.
The exterior of the Metropolitan is truly a sight to behold. The teal and white paint job is suited to the car's playful and fun-loving character, while the rounded body and compact size make it easy to maneuver in tight spaces.
Inside, the Metropolitan is surprisingly spacious and comfortable, with room for up to four passengers. The seats are upholstered in a tasteful combination of white vinyl and teal cloth, while the dash and instrument panel are finished in a sleek chrome and black.
Overall, the 1960 American Motors Nash Metropolitan is a one-of-a-kind classic car that combines style, performance, and practicality in a truly unique package. Whether you're a collector or just looking for a fun and memorable way to get around, this car is sure to impress.
If you're looking for an American Classic to burn up the pavement this spring and summer, then this Nash Metropolitan is exactly what you're looking for!
This 1960 Metropolitan Nash can be seen in detail including 100+ HD Pictures and an HD video at gatewayclassiccars.com. For additional information please call our knowledgeable staff at 618.271.3000 or email us at . The St Louis showroom is located at 1237 Central Park Drive, O'Fallon Illinois 62269.
St. Louis Sales Team
Geoffrey Valdejo
Lead Sales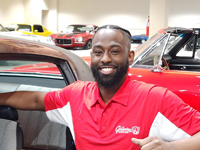 Nate Patton
Sales Consultant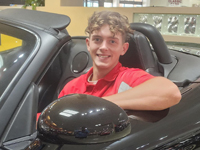 Nick Peppler
Sales Consultant