Gateway Classic Cars St. Louis is proud digitally present this 1947 Chevrolet Fleetmaster.
The 1947 Chevrolet Fleetmaster is a stunning vintage vehicle that captures the essence of automotive elegance from the post-war era. With its beautiful caramel exterior paint, this classic car exudes a timeless charm that turns heads wherever it goes. The paintwork has been nicely maintained, showcasing a lustrous shine that reflects its pristine condition.
Step inside, and you'll be greeted by a beautiful tan interior that appears to have been lovingly restored. The attention to detail is evident, as every element seems to have been carefully chosen to preserve the original essence of this iconic automobile. The plush tan seats provide a comfortable and luxurious experience, transporting you back in time to the golden age of motoring.
One notable feature of this 1947 Chevrolet Fleetmaster is its working dolphin gauges with gold bezels. These gauges add a touch of sophistication to the instrument panel, combining functionality with vintage aesthetics. They provide accurate readings of essential driving information, allowing you to monitor the performance of the vehicle with ease and style.
Under the hood, the 1947 Chevrolet Fleetmaster packs a powerful punch. It is powered by a 327 cubic inch Small Block Chevy (SBC) engine, which delivers impressive performance and a thrilling driving experience. The 3-speed automatic transmission ensures smooth gear shifts and effortless acceleration, making it a joy to navigate the open road.
Whether you're an avid classic car enthusiast or simply appreciate the beauty of automotive history, the 1947 Chevrolet Fleetmaster is a true gem. With its caramel exterior paint, pristine tan interior, working dolphin gauges with gold bezels, and powerful 327 SBC engine, this vintage vehicle embodies the spirit of a bygone era while offering a delightful driving experience that never goes out of style.
If you're looking for a family cruiser that will turn heads this spring and summer, then look no further, we have the Chevy Classic you're looking for.
This 1947 Chevy Fleetmaster can be seen in detail including 100+ HD Pictures and an HD video at gatewayclassiccars.com. For additional information please call our knowledgeable staff at 618.271.3000 or email us at . The St Louis showroom is located at 1237 Central Park Drive, O'Fallon Illinois 62269.
St. Louis Sales Team
Geoffrey Valdejo
Lead Sales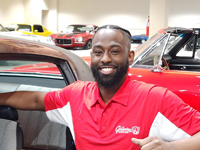 Nate Patton
Sales Consultant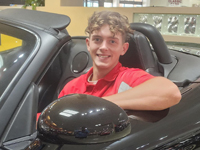 Nick Peppler
Sales Consultant