Introducing the iconic 1968 Chevrolet Chevelle, a classic American muscle car that combines vintage charm with modern performance. This beauty is dressed in a sleek black exterior that complements the red and black leather interior, creating a striking contrast that is sure to turn heads wherever you go.
Under the hood, this Chevelle has been LS swapped with a powerful LSA V8 engine, delivering an exhilarating driving experience that is both smooth and responsive. The automatic transmission ensures seamless gear changes, allowing you to focus on the pure joy of driving.
This Chevelle is not just about power and performance. It also comes equipped with a host of features designed to enhance your comfort and convenience. The air conditioning system ensures a cool and comfortable ride even on the hottest days, while the AM/FM radio lets you enjoy your favorite tunes on the go.
The custom wheels add a touch of personal style to this classic car, while the heated seats provide warmth and comfort during those chilly morning drives. The leather interior adds a touch of luxury and sophistication, making every journey a pleasure.
Safety and control are paramount in this Chevelle. The power brakes provide reliable stopping power, while the power steering ensures easy and precise handling. The radial tires offer grip and stability on the road, and the seatbelts are there for your safety.
The tilt steering wheel allows you to adjust the steering column to your preferred position, ensuring a comfortable and ergonomic driving experience.
In summary, this 1968 Chevrolet Chevelle is a blend of classic style and modern performance. With its powerful engine, automatic transmission, and a host of comfort and safety features, it offers a driving experience that is truly second to none. Don't miss your chance to own this piece of American automotive history.
This 1968 Chevrolet Chevelle can be seen in detail including 100+ HD Pictures and an HD video at gatewayclassiccars.com. For additional information please call our knowledgeable staff at 618.271.3000. The St Louis showroom is located at 1237 Central Park Drive, O'Fallon Illinois 62269.
St. Louis Sales Team
Geoffrey Valdejo
Lead Sales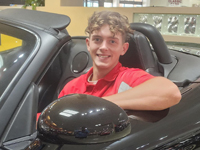 Nick Peppler
Sales Consultant