Introducing the stunning 2009 Dodge Challenger SRT8 in a captivating Blue Pearl Coat B5 exterior color. This powerful muscle car is not only a head-turner but also a thrilling driving experience, thanks to its impressive 6.1 Hemi V8 engine and 6-speed manual transmission. The sleek black leather interior adds a touch of luxury to this performance-driven vehicle.
Stay cool and comfortable with the air conditioning system, while the AM/FM radio provides entertainment for your drives. Safety is a top priority with anti-lock brakes, an anti-theft system, driver and passenger airbags, and seatbelts. The cruise control feature allows for a more relaxed driving experience on longer journeys.
Enjoy the convenience of power-operated features, including power brakes, power locks, power seats, power steering, and power windows. The aluminum wheels not only add to the vehicle's sporty appearance but also contribute to its performance capabilities.
Take pleasure in the added comfort of heated seats during colder days, and experience the luxurious feel of the leather interior. The tilt steering wheel ensures a comfortable driving position for drivers of all heights. The radial tires provide a smooth and responsive ride, ensuring you feel confident and in control behind the wheel.
Don't miss the opportunity to own this exceptional 2009 Dodge Challenger SRT8, equipped with all the features you need for a thrilling and comfortable driving experience.
Charlotte Sales Team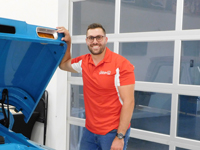 Josh McClelland
Lead Sales
Jay Torry
Sales Consultant